Earn your degree while working full-time
The MS CRS program is designed for busy working professionals who wish to continue working while earning an interdisciplinary degree from the top-ranked colleges of NYU School of Law and NYU Tandon School of Engineering at New York University.
Utilizing a blended, or hybrid, learning model, your academic experience is curated with a mix of live interactions with the faculty and your fellow students, and online independent study at your own pace.
Students interact with faculty through a combination of live residential sessions and online webinars. These webinars are a great opportunity to connect from wherever you are in the world and attend that week's lesson.
Whenever not physically present at NYU or virtually present online, you will spend the remaining time completing independent work and studying on your own. While this is individual time and self-paced, you are encouraged to leverage the diversity of thought across the student body, the faculty, and the wealth of other NYU academic resources.
This blended learning model allows you to spend about 10-15 hours per week focused on your MS CRS studies in a variety of formats, which allows you to customize it within your schedule as a working professional. The flexibility offered to all students will allow you to graduate with your master's and immediately apply your learnings to the cybersecurity landscape.
We welcome you to learn more about the student experience by visiting Student Spotlights. To understand the blended model further, please read on for the semester format.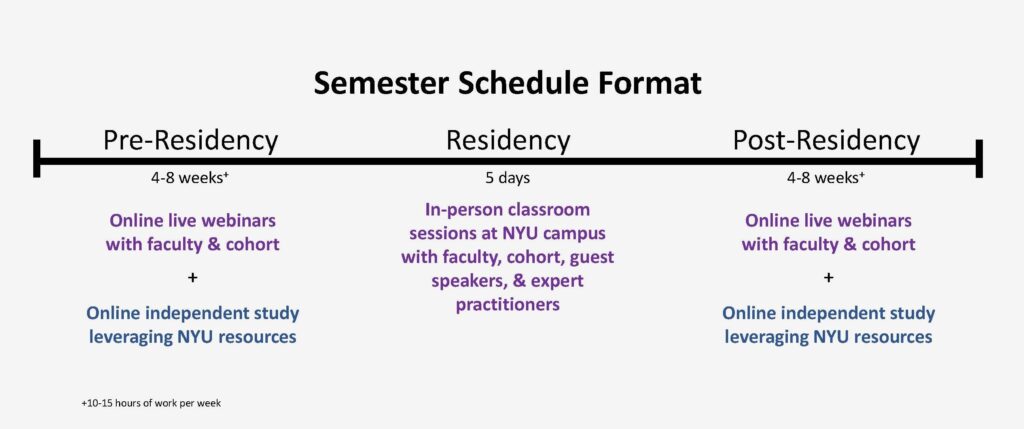 Each semester is divided into three distinct phases, starting with the Pre-Residency phase. During this time, you are working remotely from wherever you are based in the world to prepare for your in-person residency* on campus. This time is spent completing qualitative and quantitative assignments that include readings and cases, tutorials and diagnostics, exercises, simulations, labs, and written essays. Your professors also schedule webinars to examine the coursework and allow you to interact online before meeting each other in person.
The Pre-Residency sets you up for a successful and rigorous classroom experience* during the Residency phase: a five-day long session that provides a dynamic environment for discovery and collaboration with classmates, faculty and leading subject matter experts from a range of disciplines. Guest speakers, leading authorities, and expert practitioners lead discussions at the intersection of business, policy and strategy. The networking opportunities abound and you leave prepared to complete the next phase of the semester. A link to the residential program dates can be found under our Program Overview.
After heading home from campus,* the Post-Residency phase allows you to synthesize and apply the key concepts learned throughout the course and semester. Building off of the Pre-Residency and Residency phases, the online webinars and assigned deliverables – in the form of case studies, labs, written essays, and/or group projects – allow you to implement what you have learned and prepare for a leadership role within the complex and ever growing world of cybersecurity.